Updated last: 7/26/2022 – Keep in mind, pricing may have changed
Who doesn't love receiving mail? I know both my children and myself love receiving packages in the mail, especially subscription boxes. Subscription boxes are a recurring delivery of niche products. It's such a fun experience opening up your box and seeing all the surprises.
There are so many different subscription boxes out there but I'm going to be listing those for your children and teens. More specifically, educational subscription boxes! With so many doing learning from home this year, these would make great editions for lessons or just entertainment. In this list you'll find cooking, books, STEM and so many more subscription boxes.
This post contains affiliate links, thanks for supporting this blog.
EDUCATIONAL SUBSCRIPTION BOXES FOR KIDS & TEENS
Many different subscription boxes for kids and teens, from food boxes to STEM boxes – so many options!
Womple Studios
For ages: 3-11
What you get: DinoBox(ages 3-5)- Travel back in time to when dinosaurs roamed the Earth with sensory activities, RAWR-some stories, and more.
WompleBox(ages 6-11)- Explore a new country each month with globe-trotting adventure stories, hands-on projects, giant activity maps, and more.
We've tried the WompleBox, Piper and I had so much fun exploring the county and doing the activities. It was a great surprise to receive in the mail, thank you Womple Studios!
Price: $24+
Raddish Kids
For ages: 3 and up (with help from adult)
What you get: Unique kids cooking kit with a new theme every month. Each kit includes: 3 laminated child ready recipe guides, a quality kitchen tool, a collectible colorful apron patch and 4 table talk cards. A creative kitchen project, 3 culinary skill lessons and a complete grocery list.
We tried out the kit last month and Piper really loved it! Check out our review.
Price: $24 month & free shipping
Deals: Get your first box for only $16.80
Yumble
For Ages: Kids of all ages, although keep in mind if you are ordering for older kids with large appetites.
What you get: Yumble is a weekly subscription service that delivers prepared, balanced, and delicious kids meals right to the doors of busy parents. Each box comes with new activities for kids, making mealtime a breeze for you and a joy for them.
I'm thinking about ordering this for my children this school year, they would make perfect convenient and healthy lunch time meals. This meal service is perfect for this distance learning year.
Price: Starting at $5.99 a meal
Eat to Explore

For ages: ages 3 and up (with help from adult)
What you get: Every month, you'll receive new country to explore! Full of local recipes with unique spices/sauces & learning materials, it's the perfect way to explore new cuisines and learn culinary facts from around the world! Each box come with 3 Recipe Cards (4 servings each), unique Spices/Sauces/Grain mixes you need from the country of the month, and a shopping list to get your preferred fresh ingredients that meet your dietary preferences.
Price: $24.95
Sensory Theraplay Box
For ages: Children of all ages
What you get: Toys to help develop important sensory motor skills & stimulate the senses. Engage your child in fun, silly sensory play! Items are therapeutic & can be calming or help manage anxiety. Curated for children with autism/sensory needs in mind, but suitable for children of all abilities.
Price: $40.95 month
Subscribe to Sensory Theraplay Box
Sensory Box
For ages: Teens and adults
What you get: In each box you will find a fun assortment of sensory items to help you relax and self-regulate!
Price: $79/ every 3 months
Green Kids Crafts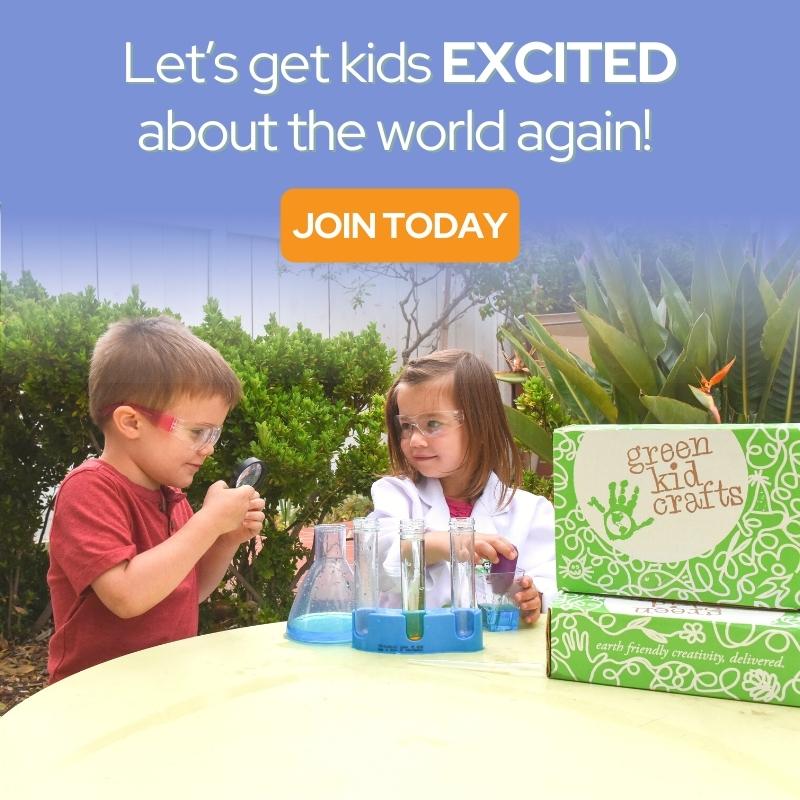 For ages: 2-10+
What you get: Green Kid Crafts is empowering the next generation of environmental leaders using creative, nature-based STEAM activities.
Price: Starts at $24.95
Subscribe to Green Kids Crafts
Fun in the Box
For ages: Newborn-12 years old
What you get: Receive 3 -5 quality products for kids like toys, games, crafts and unique items kids will love. Choose from Seasonal, Annual, Mystery, Birthday and Camping Box.
Price: starting at $29.99
Girls Can Crate
For ages: 5-10 years old
What you get: Discovery fearless female role models and explore hands on science and art activities for girls.
Price: $27.95
Little Dreamers Club
For ages: 3-8 years old
What you get: Each box contains SIX kid tested and approved projects to ensure maximum fun. Each box has a "top-rated, must have" book and art supplies. Each box contains an Activity Pack with extra art projects, DIY projects to complete at home and a themed badge.
Price: $32.99
Subscribe to Little Dreamers Club
Wonder Crate Kids
For ages: 7-12 years old
What you get: Each monthly subscription box contains a book AND hands-on activities to educate, inspire and empower kids. First month comes with a reusable tote bag.
Price: $29.95
Subscribe to Wonder Crate Kids
Creation Crate
For ages: 8+ but may need help from a parent
What you get: All of the electronic kits are going to be different depending on the project, but the 3 main things you will receive are; an UNO R3 microcontroller, which is like a pocket-sized computer (and is also Arduino compatible), Various electronic components and Access to online courses. Projects become progressively challenging.
Price: $29.99 monthly
MEL Science Kits
Comes in two different kits; MEL Kids Steam and MEL Chemistry
For ages: ages 5+(Kids Steam) and 10+(Chemistry)
What you get: (Kids Steam) Discover over 12 STEAM DIY projects with more than 36 safe and exciting experiments in one subscription plan. New science topic every month. (Chemistry)EDUCATE and have FUN together at the same time! FREE Starter Kit, FREE VR headset, FREE Chemistry lessons in VR – all your first month. Ingredients, equipment, and instructions provided. Receive 2-3 new experiments every month.
Price: (Kids Steam) $39 and (Chemistry) $39
Both my children have tried the MEL Science Kits and they are so great. Such a fun activity and I love seeing how proud they are afterward.
Subscribe to MEL Kids Steam and MEL Chemistry
STEM Discovery Box
For ages: 7-teen
What you get: Each month a new box will arrive in the mail with three exciting STEM projects. Your child will learn how things work, why they work and how to create them! They will build, explore and test all kinds of experiments and contraptions using activities built for their age group (and to be honest, adults love them too!).
Price: $30
Deals: $25 for your first box
Subscribe to STEM Discovery Box
Kiwi Co
For ages: all ages from infant to 100
What you get: KiwiCo delivers STEM, STEAM, science and art kits that provide serious fun and hands-on learning. Find kits for kids of all ages today!
Price: Starting at $15
My daughters been getting the KiwiCo boxes for the past couple months now and she absolutely loves it.
Little Workbox
For ages: 8-12
What you get: Each month you will receive up to 4 projects connected to a STEM theme, physics, chemistry, engineering, robotics and more!
Price: $19.95
BitsBox – Coding
For ages: 6-12
What you get: No previous coding experience is necessary. Each kit includes a helpful Grownup Guide and unlimited email support, too!
Price: $33
Deals: get first box for $23
Cooper and Kid
For ages: 5+
What you get: Just about anything you can imagine. Each Cooper Kit is a ready-to-go activity kit for men with kids designed to enrich and maximize quality time together.
Price: $65 quarterly
Kids Night In
For ages: infant+
What you get: They have a regular box, faith box, and sensory box to choose from. Kids Night In Box brings families together in the comfort of their home and focuses on truly playing with a purpose. Our team of moms, dads and educators package life lessons and education kits that are more than just another toy collecting dust. We also offer interactive sensory kits with all-natural, toxic free play dough.
Price: monthly $41.99
Up & Away Adventures
For ages: 3+
What you get: A bi-monthly subscription box service bringing a back-to-basics educational virtual experience for families and homeschoolers featuring countries from around the world. Every month our customers will receive a carefully curated and researched case filled to the brim with informative and entertaining items surrounding that month's particular country. Each suitcase is packed full of sights, sounds, smells, tastes, and things to touch, guaranteed to stimulate our subscribers senses.
Price: $39.95
Subscribe to Up & Away Adventures
Little Global Citizens
For ages: 4-10
What you get: The only subscription box that introduces your child to countries of the world AND their cultures.
Price: $39.95
Subscribe to Little Global Citizens
Highlights Top Secret Adventures
For ages: 7+
What you get: Each mystery kit is a kid's world travel guide, puzzle challenge and detective game in one. Receive a mission assignment letter, puzzle book, country guide book, collectible villain cards and a storage portfolio every month.
Price: $18.99
Deals: get first box for $9.50
Subscribe to Highlights Top Secret Adventures
Highlights Puzzle Club
For ages: 4-7 box and 7+ box
What you get: Two Age-Appropriate Books provide brain-building activities for both kids and grown-ups. Three Sticker Puzzles in Each Book strengthen hand-eye coordination and fine motor skills.
Price: $16.99
Deals: get first box for $8.50
Subscribe to Highlights Puzzle Club
Owl Crate & Owl Crate Jr
For ages: 8-12 and 14+
What you get: Each month your young reader will receive a magical delivery featuring a brand new middle grade novel, exclusive goodies from the author, and 3-5 unique and usable items built around that month's theme that encourage curiosity, creativity, and imagination!
Price: $29.99 monthly
Little Passports
For ages: 3-12+
What you get: Choose from Early Explorers, Science Jr, World Edition, USA Edition, Science Expedition. A box full of appropriate items. They have a NEW Go Wild For Animals box.
Price: starting at $25.00 monthly
Hola Amigo Box
For ages: toddler-elementary aged
What you get: Hola Amigo is a Spanish subscription box for kids!
Price: starting at $24.99 monthly
---
Make learning at home a good experience this year. Any of the above subscription boxes will be a fun and different activity for your household to enjoy! Your children will get excited when they get mail and you'll be happy that it's one less "lesson" you have to come up with.
There's so many great ones and if the budget would allow we'd choose them all but for now I need to narrow down our top choices! Which ones are your favorite? Do your children already subscribe to any?
Please share this post with your friends and don't forget to save the post yourself!